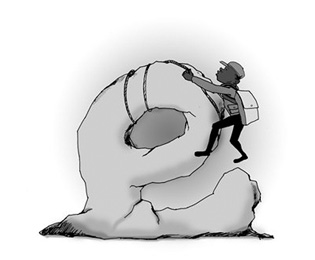 Despite the ongoing downturn in international investment and the global economy, economic and trade cooperation between China and Africa continues to grow steadily, highlighting the great potential of the African market. E-commerce, as a new business mode, has become a key pillar for this cooperation. It meets the needs of both sellers and buyers. Chinese small and medium enterprises (SMEs) can sell their products directly to the African market through e-commerce platforms, achieving a profit margin of 30-40 percent, in comparison to 5-10 percent under the previous wholesale approach. In addition, it contributes to China's strong export growth – particularly exports to Africa are mainly consumer goods, such as clothes, fashion accessories and household digital appliances and products, which are suitable for e-commerce.
On the other hand, the present China-Africa e-commerce development still faces challenges. First, Internet security risk is high. African consumers lack confidence in online transactions due to the risks of false websites, Internet viruses, personal information leaks, fake products as well as unauthorized online payments. They traditionally prefer to shop in stores and making purchases through cash or debit payments which they deem safer. Second, logistics arrangements are challenging. The poor infrastructure in Africa often leads to slow and unstable delivery of the products, and results in higher logistics costs. It is more efficient, both in terms of cost and time, for consumers to shop offline. Third, e-payments are not popular. Credit cards and e-banking are less popular in African countries. With the concerns about online payment risks, African consumers prefer point of sale payments.
Therefore, to promote China-Africa e-commerce trading, we need to face the above challenges, and more importantly tackle them in the following ways.
First, there needs to be better assistance in developing African infrastructure to enhance the basis of e-commerce trade. Africa is a geographically broad continent, and the telecommunication infrastructure in many countries is generally weak and outdated. In order to improve Internet coverage, intercontinental underwater optical cables and intercountry cables are required, which can be financially aided by China.
Enhancing technical cooperation in telecommunications will also help African countries increase their network maintenance capabilities. Additionally, with China's help in developing local logistics networks, rural deliveries can be ensured, and domestic employment rates will likely rise.
Additionally, capital input to develop local mobile banking businesses can be achieved via policy-based lending. The current unpopularity of bank debit and credit cards businesses in Africa is a huge obstacle to promoting e-commerce. Therefore, mobile banking and payment can be directly introduced to facilitate e-commerce online transactions in replace of bank cards. Strategic cooperation can be carried out between Chinese and African electrical payment companies to accelerate the research and development of online purchase and payment apps for e-commerce trading.
Second, multi-level international cooperation can be introduced to promote cross-border e-commerce. Chinese enterprises should use the opportunity of commerce development to promote themselves. The current performances by internationally popular e-traders such as Ebay, Amazon and Alibaba are not ideal in the African market, whereas local companies including Jumia, Konga and Kaymu are highly recognized. Chinese companies can penetrate the market by shareholding, acquiring or merging with these local companies.
Cooperation between Chinese e-commerce enterprises with international online payment and transaction platforms should be promoted. Given the underdeveloped African banking systems, Chinese e-commerce companies should consider cooperating with international transaction platforms such as PayPal to ensure cross-border payments.
Cooperation between Chinese and African government agencies on foreign trade and telecommunications would also help coordinate e-commerce governance frameworks.
Chinese telecommunications supervision agencies should also carry out joint enforcement actions with developed countries to crack down on Internet crimes to ensure a safe Internet environment in Africa.
Being creative about the new "020 mode" will help trigger a China-Africa production-capacity improvement revolution. In the context of a global excess of production capacity, industries should switch toward a stronger focus on demand-driven production rather than just traditional supply-side considerations. In terms of China-Africa e-commerce cooperation, maximizing online and offline resources to push promotional material faster to a broader consumer base and receiving online orders and payment in real-time will greatly benefit international trade. Together with simplifying customs and tax refund procedures, these initiatives will highlight China's competitive advantage in the global supply and value chain.
The author is an associate research fellow with the Chinese Academy of International Trade and Economic Cooperation under the Ministry of Commerce. bizopinion@globaltimes.com.cn