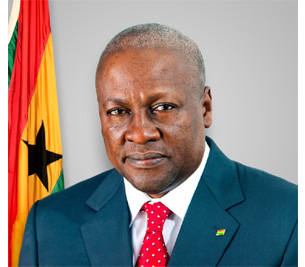 by Justice Lee Adoboe
Ghanaian President John Dramani Mahama commissioned on Tuesday a China EXIM Bank-financed modern market project for traders in ancient capital Cape Coast, 150 km west of the capital.
The new Kotokuraba project, which took about four years to complete, has several facilities including a 200-capacity car park, surface and overhead water tanks, a solar system for emergency lighting, and a generator set. It also has a fire hydrant to deal with the outbreaks of fire, public address systems, and CCTV security cameras.
During the commissioning, Mahama, who celebrated his 58th birthday on Tuesday with a vigorous re-election campaign, assured traders who used to ply their trade in the old structure of first consideration in the allocation of shops and stalls with no bias or favoritism.
"A list of the women and other traders who were trading in the market before the reconstruction are going to be served firstly afterwards, if there are more stores, others will be attended to," the president said.
The market construction undertaken by China Railway Construction Engineering Group is expected to ease the congestion in the former Kotokuraba (Crab Village) market.
It is one of the projects financed by the 1.3 billion loan government of Ghana contracted from the EXIM Bank of China for infrastructural development in the country.
The previous market structure has suffered two major fire incidents with wares of traders destroyed and depriving most of them of their livelihoods.