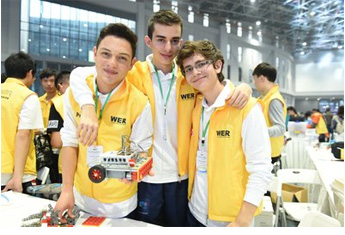 The 2016 World Educational Robot (WER) championship was held at the Shanghai National Exhibition and Convention Center, China on November 19 and 20.
More than 2,000 top players from nearly 20 countries, who are selected from different levels of WER competitions, took part in this gala of educational robots to compete for nine awards across four contests (the brick robot contest, extended task contest, creation contest and video contest).
The theme of WER 2016 was 'Move the Earth'. The annual competition takes place at city, provincial and national levels, with the highest level being the world championship. With more than 500,000 players from over 30 countries joining in at all levels, WER is regarded as one of the biggest robot competitions in the world for youngsters.
According to Prof. Jake Mendelssohn, chairman of WER, for the purpose of equality, WER specifies Abilix as the only competition platform in which tasks are announced on the site, the first in the history of this competition, and students have to analyze tasks, write creative solutions, do programming and debugging without the directions of teachers on the site.
WER provides young people with a platform to improve their abilities in an atmosphere of happiness via various and interesting contest projects.