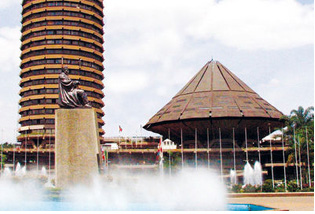 The China Trade week Expo took place at the Kenyatta International Convention Centre (KICC) in Nairobi Kenya last week. The three-day event is constructed to provide Chinese companies a unique opportunity to meet, discuss and develop business partnerships with Kenyan business people and the region's business community in order to cover a wide range of commercial sectors.
The Chinese ambassador to Kenya Liu Xianfa stated that the China Kenya bilateral relations are "deepening every day" and official statistics indicate that the China Kenya bilateral trade has rose 53 percent to a record high of over $5 billion in 2014.
According to the Chinese ambassador to Kenya Liu Xianfa this is only going to be increased; "China will continue partnering with Kenya, helping it in building more industries and fulfil modernized products"
It was stated by Liu Xianfa that China is now Kenya's largest source of foreign direct investment and second largest partner. Liu estimated that in 2013, China's combined direct investment in Kenya reached US$474 million and by the end of the year rose to US$8.4 billion.
Director of Meeting Incentive Events (MIE) David Wang commented on the trade week expo stating, "We strongly believe that this event will provide an opportunity for Kenyan entrepreneurs to grow strong business partnerships with Chinese companies and benefit from the industrial capacity." He added that a lot of Chinese companies are keen to expand their affairs into developing countries such as Kenya.
MIE International Director Gary Robinson also made some remarks on the growing trade between China and Kenya, identifying and supporting that China has become one of Kenya's most substantial trading partners over the past decade he added that "This is because China produces goods that meet the needs of the local population, and that the trade fair will also provide an opportunity for Chinese firms to establish joint venture manufacturing units with Kenyan companies."
Robinson said that "A lot of small and medium size companies are under pressure to source high quality goods at competitive prices and that china offers the most competitive price for most manufactured goods."