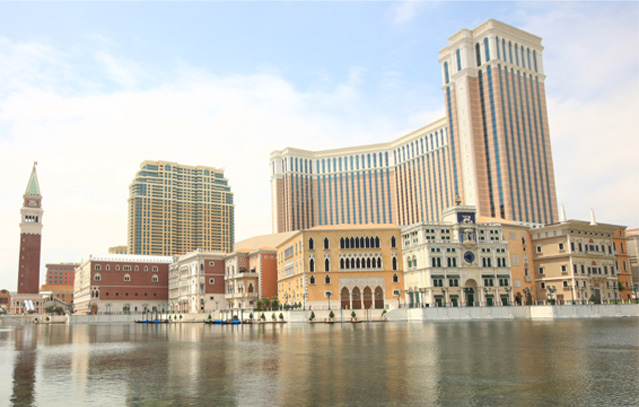 8th consecutive year in support of global green initiative — part of Sands ECO360 degree commitment to sustainability.
Sands China Ltd. properties will be lights out March 19 in support of Earth Hour. Starting at 8:30 p.m., exterior lights and non-essential indoor lights will be turned off for one hour at all Sands China properties — Sands® Macao, The Venetian® Macao; The Plaza™ Macao featuring Four Seasons; and Sands® Cotai Central featuring St. Regis, Conrad, Sheraton, and Holiday Inn — including at the project site of The Parisian Macao.
Sands China Ltd. will once again turn off the lights for Earth Hour, joining businesses and individuals around the world March 19 to raise environmental awareness on climate change.
It marks the eighth year in a row of Sands China's participation in the worldwide environmental endeavour, which has a goal of raising global awareness of climate change by encouraging eco-conscious individuals, communities, households and businesses to switch off their lights for one hour.
"Earth Hour is an important global initiative, and Sands China is pleased to support it again this year as part of our continued commitment to sustainability," said Mark McWhinnie, senior vice president of resort operations and development, Sands China Ltd. "Earth Hour raises consciousness worldwide on the importance of environmental sustainability, and this falls right in line with our corporate Sands ECO360 degree global sustainability strategy."
In the week leading up to Earth Hour, Sands China will incorporate the global I Will If You Will challenge (IWIYW) to engage team members across all properties to take action on climate change (Twitter hashtags #ECO360 and #OneSmallChange). The challenge activities for team members are:
Turning off the lights at home during Earth Hour 2016
Taking public transportation, biking or walking to work
Adjusting air conditioning thermostats at home and at the office to 24-26 degrees Celsius
Changing out an incandescent or compact fluorescent light bulb at home for an energy-efficient LED bulb
Planting a tree or sponsoring a tree planting
Submitting a workplace- or business-related green idea to the company
Taking an online educational climate quiz
Team members are encouraged to take on multiple challenges and to repeat single challenges as many times as possible during the campaign period. Those who participate have the chance to win prizes like a Fitbit or an Apple Watch.
Implementing environmentally sustainable initiatives at its properties is a long-running strategy for Sands China. Annual participation in Earth Hour is just one of the many ongoing efforts of Sands ECO360 degree. In the area of electricity conservation, energy saving LED lights and optimization of heating, ventilation and air-conditioning systems saved a total of 46 million kWh of electricity in 2015 — enough to power more than 115,000 households every month.
Sands China's eco-friendly measures have contributed to more sustainable operations while earning the company recognition for its efforts. In April 2014, The Venetian Macao became the first entity in Macao and one of the first two integrated resorts in Asia to receive the prominent ISO 20121 Event Sustainability Management System certification. In 2015 it received an ISO 9001:2008 certification for the quality management system of its convention and exhibition services. Five hotels at Sands China properties are winners of the Macao SAR government's Macau Green Hotel Award, with four Gold designations and one Silver. These and many other awards continue to highlight the success of Sands China's ongoing sustainability efforts.