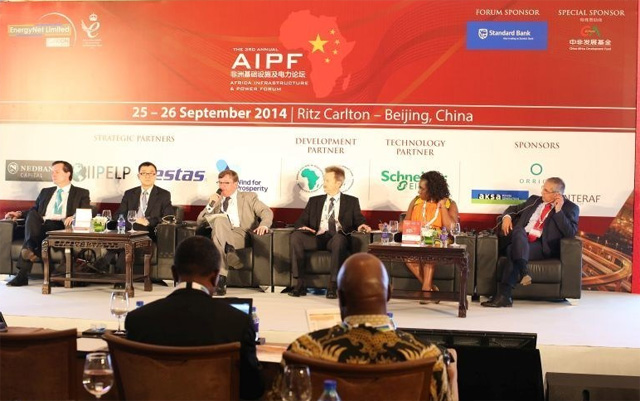 The continued strength of China-Africa trade is stimulating crucial upgrades to the continent's infrastructure and power sectors and ushering in a new era of prosperity.
EnergyNet will host the 4th annual Africa Power and Infrastructure Forum at the Ritz Carlton Hotel from the 15th – 16th October 2015 in Beijing, bringing together credible Chinese investors with African power developers to explore opportunities for partnerships.
The meeting partners with China Africa Development Fund and the China Electricity Council, whose board consists of the heads of China's most powerful energy companies, including China State Grid, Guodian Power and China Hydro.
6 African Ministers are confirmed to attend the meeting including: H.E Hon, Henry Rotich, Cabinet Secretary for the Treasury, Kenya , H.E. Hon. Matadi Atadi Nenga Gamanda, Minister of Energy and Water Resources, DRC, H.E. Hon Christopher Yaluma, Minister of Energy, Zambia, H.E. Hon Henry Macauley, Minister of Energy, Sierra Leone, H.E. Hon Obeth Kandjoze, , Namibia, H.E. Hon Aston Kajara, Minister of Finance in charge of Privatisation, Uganda, Honourable Minister of Energy and Mines Maria Kiwanuka, Senior Advisor to the President, Uganda and Silas Zimu, Presidential Special Advisor on Energy, South Africa.
The meeting will feature presentations on large scale infrastructure projects currently being developed in Africa in countries such as Ghana, Kenya and DRC, as well as updates on power sector reform.
Projects to be featured include:
The East to West Land Bridge -The LAPSSET Corridor
East African Standard Gauge Railway
Dry Port Development in Ghana
The Unbundling of a State Owned Utility- Liberia
Gas Investment Projects in South Africa
The East Africa Roads Programme
Grand Inga I and II Project in the Democratic Republic of Congo.
To find out more about this meeting:
Meeting dates: 15-16 October 2015
Venue: Ritz Carlton Hotel, Beijing, China
Visit: http://www.africa-infrastructure-forum.com
Contact: Amy Offord – Marketing Manager
E: Amy.offord@energynet.co.uk
T: +44(0)20-7384-8068