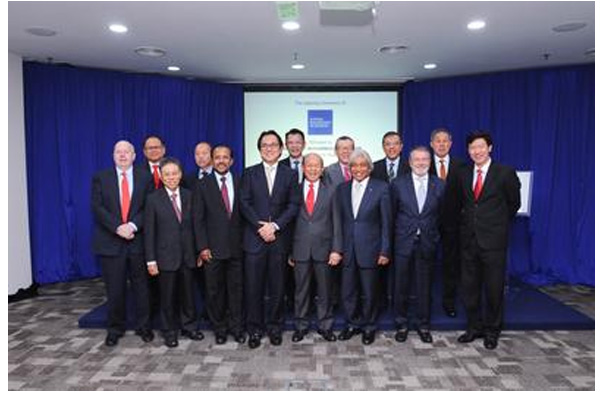 Asian Banking School (ABS) was officially launched at an opening ceremony officiated by Dato' Muhammad bin Ibrahim, Deputy Governor of Bank Negara Malaysia.
Tan Sri Azman Hashim, Chairman of the Asian Institute of Chartered Bankers and the Asian Banking School (fourth from right), Dato' Muhammad Bin Ibrahim, Deputy Governor of Bank Negara Malaysia (third from right) and Professor Dr. Colyn Gardner, Chief Executive Officer of the Asian Banking School (second from right) with the Transformation Steering Committee and Council Members at the Official Opening of the Asian Banking School.
ABS carries on the experience and legacy of Institute of Bankers Malaysia (IBBM) – now known as the Asian Institute of Chartered Bankers (AICB) – in delivering professional qualifications and training programmes for the banking industry. The name "Asian Banking School" reflects the regional aspirations of the domestic banks, and the government's strategy to turn Malaysia into an educational hub.
Created for the industry by the industry, ABS is tasked to put in place an implementable strategic framework that reflects the aspirations and needs of the industry perspective. This includes the delivery of world class skills development through 5 distinct roles, namely: thought leadership, capability development, certification, apprenticeship and industry awareness. In a way, the ABS curriculum is designed to meet the developmental needs of the industry and help to close the identified talent gaps. The curriculum also reflects the core industry competency needs as well as focuses on the development and delivery of appropriate content that is critical for capacity building, not just in Malaysia, but that can also be applicable across the region.
ABS will be helmed by Chief Executive Officer, Professor Dr. Colyn Gardner. In his welcome address, Chairman Tan Sri Azman Hashim introduced the CEO and added, "Professor Colyn has been delivering services at the highest level in the financial sector, providing specialist financial training, career-consulting, and investing in financial services technology. With his leadership and the support by a team of qualified professionals equipped with the necessary qualifications, technical and market know-how, we are looking at a force that is able to translate broad concepts and principles into implementable actions producing concrete results."
Exclusive Training Partner of AICB
ABS serves as the Exclusive Training Partner of AICB, the professional body for the banking and financial services industry in Malaysia focusing on membership, education, examinations and awards, and thought leadership. AICB will focus on upholding the standards of excellence for the financial services sector to empower its workforce through professional qualifications. ABS focuses on creating the required enabling culture and capabilities within them to develop and deliver the curriculum in compliance with the standards and policies established by AICB.
Cooperation between ABS and AICB is governed by four guiding principles: industry relevance, creation and ownership of intellectual capital, high quality research, and effective and innovative delivery. A key strategy is to leverage on the strength of the Chartered Banker programme that is closely mapped against the Chartered Banker membership framework. Chartered Banker is jointly awarded by AICB and the Chartered Banker Institute in the UK, the only body in the world able to confer this award.
"Every effort now needs to be made to build on, and elevate further, the quality and value of AICB's award of the Chartered Banker qualification so that it can be truly regarded as a gold standard for the banking professionals," said Dato' Muhammad bin Ibrahim in his address. "The banking industry ought to give appropriate recognition to individuals and staff who attain this prestigious qualification," he added. Dato' Muhammad also stated that there are merits in introducing more specialised qualifications and certifications according to functional areas or business lines which would then allow the banking profession to raise the bar of competence higher across the sector.
Training programmes offered by ABS include multi-disciplinary topics such as banking and strategy, project management, wealth management, customer relationship management, finance and accounting; as part of strengthening efforts to ensure a more rounded learning experience. ABS also supports post-certification professional requirements, complemented by these training programmes.
ABS education approach reflects the growth trajectory of the industry in terms of new products and services on offer; and new markets and disciplines domestically and internationally.
Becoming a Leading Provider of Banking Education and Learning Services
Producing regionally recognised qualifications and training will be the first step for ABS to establish its international credibility. Ensuring quality education and learning are aligned to professional standards, effective collaborations with top academic researchers and ­­­universities, and strategic partnerships with like-minded institutions will enhance ABS capabilities to produce high quality teaching and delivering of a wide range of banking qualifications.
Leading best practices in curriculum content, development and design through an evidence-led and practice-based process will ensure that the learning outcomes satisfy the demand of an evolving competency framework.