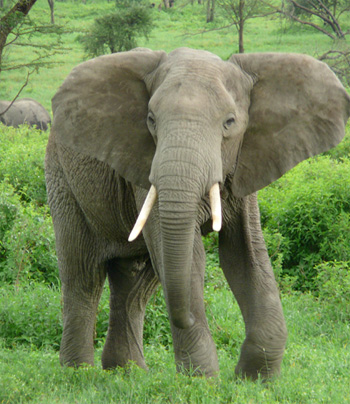 Yesterday, Chinese officials announced a new plan to phase-out commercial ivory manufacturing and sales. This action is expected to reduce demand for ivory in China, the world's largest ivory market, which will help curb the ongoing slaughter of African elephants for their tusks.
Between 2010 and 2012, more than 100,000 elephants were killed by poachers. Poaching rates are so high that some scientists predict that African forest elephants could be extinct within the decade.
Following is a statement from NRDC Land and Wildlife director, Andrew Wetzler:
"Shutting down commercial ivory markets worldwide is the single biggest step that governments can take to end the elephant poaching crisis. As the world's largest ivory market, the importance of China's announcement to phase out all commercial ivory sales cannot be underestimated. Now it's our job to closely monitor the details of China's plans, including its timeline and any intermediate steps the Chinese government will be taking."
The Natural Resources Defense Council (NRDC) is an international nonprofit environmental organization with more than 2 million members and online activists. Since 1970, our lawyers, scientists, and other environmental specialists have worked to protect the world's natural resources, public health, and the environment. NRDC has offices in New York City, Washington, D.C., Los Angeles, San Francisco, Chicago, Bozeman, MT, and Beijing. Visit us at www.nrdc.org and follow us on Twitter .