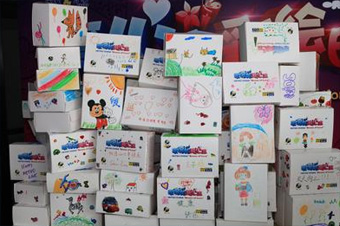 Today, staff from METRO headquarters and Putuo store delivered colorfully decorated "Boxes of Love" full of candies and snacks to the children at Shanghai Children's Welfare House, as part of "Boxes of Love" charitable initiative held by METRO China. Drawing on its 81 stores nationwide, METRO China raised over 16,600 "Boxes of Love" worth over RMB 664,000 this year. The gift boxes are to be donated to orphanages, welfare homes, and primary schools for the children of migrant workers across China before Spring Festival in 2015.
"As a company committed to social responsibility, METRO China gives back to the society and proactively involves in the communities we operate in." said Jeroen de Groot, President of METRO China. "'Care & Share' is consistently advocated in METRO Cash & Carry families around the world. We care about the children in need, and reach out our hand when help is needed."
Chinese New Year is the most joyful festival of the year, with family gathering, hearty meals and lots of celebrations, but some children have been deprived of such happiness. The "Boxes of Love" initiative, starting from 2011 and held for 4 consecutive years is meant to bring joy and sweetness to those children. The gift boxes will be distributed by METRO local store colleagues across China to orphans, children with disabilities, and children of migrant workers.
As part of the event, METRO employees and their families decorated the boxes with drawings and hand-written blessings during "Boxes of Love" Drawing Day.
METRO Cash & Carry now has 81 stores established in 57 cities in China. Wherever METRO goes, store employees actively contribute to local communities. In 2012, METRO China headquarters together with 5 stores in Shanghai donated 3,856 boxes to 34 orphanages. Last year, this number climbed up to over 10,000 boxes, which were sent to 80 orphanages, schools for children of migrant workers, and retirement homes.